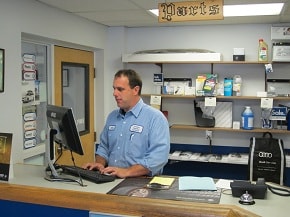 Audi-Approved Products Available at Thompson Audi
Whether you love a good DIY project or you rely on our team of trained technicians to care for your Audi Q5, Q3, A3, A4 or A6, having Audi-approved parts is essential to the function of your vehicle. We never use anything less than the perfect products, and each component that we use is designed for your exact model's specifications. Why use average sedan parts in a high-performance vehicle? We know better, and you'll benefit from our expertise in Waterville ME.
Visit Waterville ME to Speak with Us About Your Audi Q5, Q3, A3, A4 or A6 Parts Needs
Audi-approved parts aren't just designed to work for your exact car, sedan or suv; they are also capable of withstanding the rigors of your Audi Q5, Q3, A3, A4 and A6, which you know is essential. At Thompson Audi, we can provide you with the parts you need from wipers and tires to oil filters and brake pads. If your vehicle comes to us in Waterville ME for maintenance or repairs, you can count on us to use the right products for the best fit and longevity.
Shop Audi Parts Today at Thompson Audi
Place your order with our team in Waterville ME by filling out this quick order form or by contacting us directly at Thompson Audi. Without leaving Belfast, Lewiston ME, Auburn ME, Skowhegan or Gardiner ME, you can be closer to finding the perfect products to suit your Audi Q5, Q3, A3, A4 or A6. Whether it's tires, oil filters, or brake pads, don't take a chance with aftermarket products. Your Audi model is too upscale and requires parts designed to its exact specifications. Don't take a chance; buy from the source and save yourself a headache.