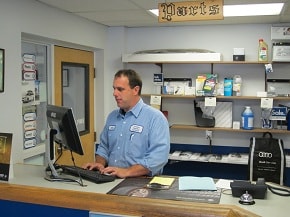 Our Audi Parts Center Has Your OEM Service Needs Covered in Waterville ME
We have the Belfast area's top Audi parts center here at Thompson Audi. You will find the region's top team of Audi service personnel who offer genuine OEM Audi parts when you visit our dealership's parts center. We always maintain an extensive back stock of OEM Audi parts and can also quickly order anything that we do not currently have on hand here in our service center. Our friendly and knowledgeable staff members are always ready to put our commitment to excellent customer service on display and would love to speak to you today about your parts needs for your Audi vehicle.
The Importance of Choosing Genuine OEM Audi Parts for Your Vehicle in Lewiston, ME
When it comes to the choice of parts for your new Audi vehicle, genuine OEM parts from our parts center are the way to go.
When you choose genuine OEM Audi parts, you know you are getting products that are the exact design and fit for your vehicle's needs. Using aftermarket parts is a risk that is simply not worth it. This is why our dealership's parts center team only offers genuine OEM Audi parts for our customers here in the Auburn, ME area. These are parts that our entire team is proud to stand behind.
We Are Ready to Answer Your Parts and Service-Related Questions Today
Our parts center team here at Thompson Audi is ready to field all of the questions you have related to genuine Audi parts and services we offer the Gardiner ME and Skowhegan areas. Our team members have extensive experience in servicing Audi vehicles, and they know their OEM parts front to back. Give us a call today or come and see us in person to let us know how we can be of service to you.